Thank you for participating in our Bazaar! Here are a few things we wanted to share with you before the big event.
---
Event Time:
Saturday, December 9: 9 AM – 3 PM
Sales should not be made before 8:30 am on Saturday. Vendors must stay for the duration of the event. Vendors who leave their space before the event ends may not be permitted to attend future Yard Sale and/or Craft Bazaar events.
---
Set Up Times:
Friday, December 8: 12 PM – 6 PM
Saturday, December 9: 6 AM – 8:30 AM
**All vendors must be set up and ready by 7:30 AM.**
Vendors should not bring items through the main entrance of the Community Center during set up. The side entrances through the gymnasium and multi-purpose room should be used to bring items into your space.
---
Vendor Parking & Load/Unload of Items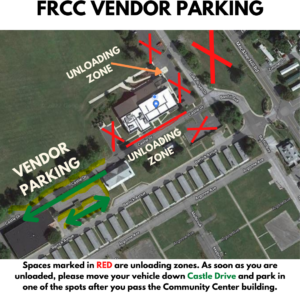 During the set-up times, vehicles may be parked beside or in front of the Community Center only to drop off your items. Items should be brought in using the doors in the exterior of the gymnasium and the multi-purpose room. Vendors should not bring items in through the main entrance/lobby area. Once you have brought your items to your space, move your vehicle so that other vendors have access to park and bring their items. You MUST move all vehicles from beside or in front of the building by 8:30 am on Saturday. There are over 100 parking spaces on Castle Drive (The road beside the Community Center where you load/unload your items) and a parking lot on the left after you drive past the Community Center. The parking lot behind the building is only for staff and volunteers. Parking on the grass is not permitted. The parking spaces beside the building and in our lots in front of the building should be for shoppers only during event hours.
---
Concessions:
Concessions will be available for purchase at the Snack Bar in the FRCC lobby. Please bring cash for these purchases.
---
We look forward to seeing you and having another successful event!
Thanks again for participating!
If you have any questions please reach out by phone at 301-241-5085 or email Bev at bcoyle@thefrcc.org or Sam at sphillips@thefrcc.org.