Barre and Sculpt a low impact combo class for all levels that will give you the perfect mix of barre (ballet inspired, but NOT a dance class) and lean muscle sculpt like Pilates. This workout focuses on high repetitions and small, isometric movements using tools like light hand weights, the mini ball, mini bands, and very often, just your own bodyweight.  The motivating playlists will push you to get lower and dig deeper in small movements that bring on the "shake" + large movements that increase your power. You'll walk out of class feeling stronger, toned, sweaty, and accomplished.
Fort Fit is a class open to everyone (members and non-members) and accessible to all fitness levels. This class is agility and strength training to help aid in everyday life movements. Classes range from bodyweight workouts to weights conditioning and fun circuits in between. Best part is that students have a say in class formatting. Want more core, focus on arms, glute work, etc? Just request it!
Half and Half is a class with 30 minutes of cardio and 30 minutes of strength exercises. The cardio portion can be STEP aerobics, Cardio Kick Boxing, or a surprise cardio exercise developed by the instructor.
L1FT involves high repetitions of relatively low weights (bar, weight plates, or dumbbells), which reduces the chance of injury but still allows you to access the many benefits of resistance training. Work out to build lean muscle mass! Increased muscle mass=increased fat-burning power.
This class varies weekly between Pilates, PiYo, Yoga, and M1ND (no namaste yoga flow). Your instructors will help to create a stronger core foundation. Balance, strength, flexibility, and breath awareness are part of this unique class led by our instructors.  This is a low-impact class that is mostly mat training. However, utilization of bands, light weights, stability balls, and TRX suspension trainers may be used.
Mix It Up is Instructors choice. The participant is in for a surprise; normally this class will be an hour of cardio and strength training combined using a variety of apparatus; balls, bands, barbell work, medicine balls and free weights.
The Community Center offers pickup sports during set times for anyone to join in on the fun. These are completely free to members and are open to all skill levels. Non members can join in on the fun by purchasing one of our guest passes. Currently offered sports include: Volleyball, Pickleball, and Basketball.
**Pick-up Volleyball is currently only available to members who are 18 years of age and older
Developed by the instructor, this hour challenges not only the body but the mind as well.  Workouts will range from body weight to strength, to balance, to recovery. Students can progress or regress exercises as needed.
Instead of listening to music, you become the music in this exhilarating full-body workout that combines cardio, conditioning, and strength training with yoga and Pilates-inspired movements. Using Ripstix®, lightly weighted drumsticks engineered specifically for exercising, POUND transforms drumming into an incredibly effective way of working out.
Designed for all fitness levels, POUND® provides the perfect atmosphere for letting loose, getting energized, toning up and rockin' out! The workout is easily modifiable and the alternative vibe and welcoming philosophy appeals to men and women of all ages and abilities.
RX Rip will strengthen your entire body in only 60 minutes! It targets all major muscle groups by using exercises such as squats, presses, lifts and curls. Steps, bars and hand weights have been specifically designed to reduce transition time and aid in muscle isolation.
This 60-minute workout will use mini bands and weights to activate, recruit, and sculpt the muscles in the posterior chain and boost your athletic performance, balance, strength, and help you sculpt your bottom half.
Senior sweat class is a 30 minute class with a variety of strength, cardio, and stretching exercises. The class is held every Tuesday and Thursday. During this class you will train for strength and cardio with aerobic exercises, balance and agility training and stretch using chairs, weights, exercise and medicine balls, bands, and TRX straps. It may be a senior class, but all are welcome.
Introduces the fundamental principles of alignment and breath work in a flow of postures linked together by the breath.  Yoga is designed to improve the health, performance, and mental acuity of athletes or individuals interested in improving their level of fitness. Based on the ancient fitness science of Hatha yoga, it blends balance, strength, flexibility and power in a fitness format.
Zumba is a fitness program that combines Latin and international music with dance moves.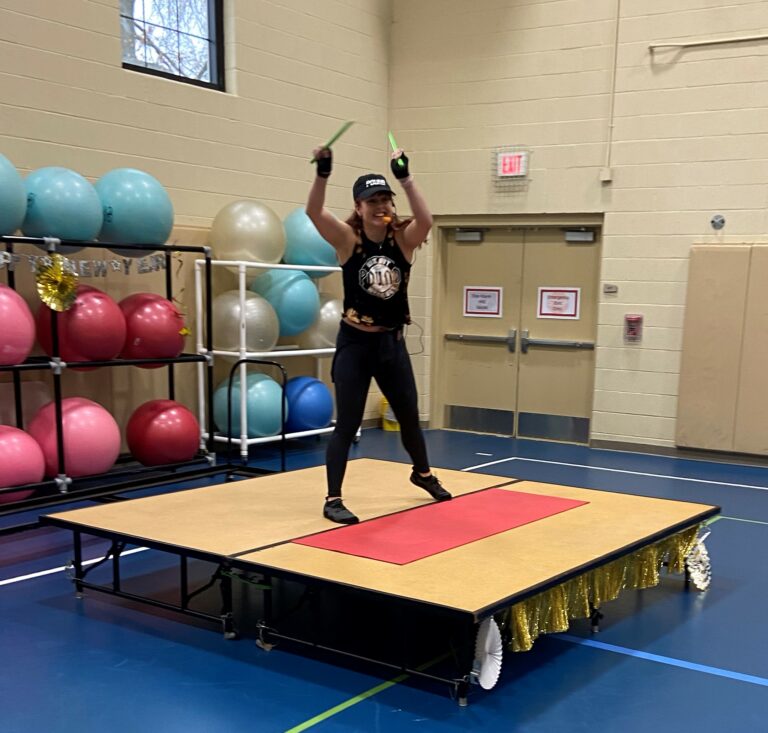 Classes prove a great way to meet people and get in shape at the Fort Ritchie Community Center. For more information, consult the
calendar page
 or contact the Community Center at (301) 241-5085.
Members pay $3 per class, non-members pay $7 per class.
Senior members pay $2 per class, senior non-members pay $5 per class.
Please complete the contact form below and a Fort Ritchie Community Center representative will be in touch.
Fort Ritchie Community Center 14421 Lake Royer Drive, P.O. Box 755 Cascade, MD 21719
Monday-Thursday 5:30 am – 8:30 pm
Friday 5:30 am – 6:00 pm
Saturday 9:00 am – 2:00 pm
Sunday CLOSED
Sign Up For Our Monthly E-Newsletter
Keep up-to-date with exciting news and upcoming events!
By submitting this form, you are granting Fort Ritchie Community Center permission to email you. You may unsubscribe via the link found at the bottom of every email. (See our
Email Privacy Policy
for details.) Emails are serviced by Constant Contact.